I 'm from Yokohama Japan. I moved to Hoosick Falls, NY in 2010.
I started weaving on February 2014. The hand woven sachet that my friend gave me inspired me, I thought "I can make my own design items". This was the start.
My first loom is "Sakiori" made by Clover in Japan. It was a good start. It is designed to use easily and compact. I soon realized I needed a different loom.
I got an another loom Louet Spring mede in Holland in November 2015. It is a perfect loom for me. I am enjoying weaving and making small items.
I am a member of the Hudson-Mohawk Weavers' Guild since May 2015 and Valley Artisans Market since October 2021.
Since 2016, I have participated in the HMWG Show and Sale in NY and the Apple Squeeze Festival in Lenox, Massachusetts. Also I was in LARAC June Craft Festival several times.
I look forward to seeing you.
Thanks.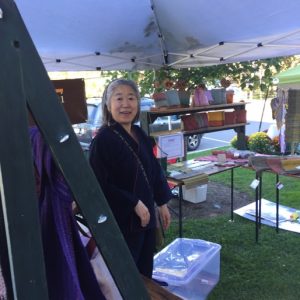 TOMI BENTLEY
518-248-3240
web@holiday.tomi88.com
Online Shop
Contact