I was born in Japan in 19##. I moved to Hoosick Falls, NY in 2010.
I started weaving on February 2014. My friend gave me a hand woven sachet. It inspired me. I thought "I can make my own design items If I weave by myself ". This was the start.
My husband bought me a table loom "Sakiori" made by Clover in Japan. It was a good start. It is designed to use easily and compact. But I noticed I could not weave enough fine cloth that I want.
I got an another loom Louet Spring on November 2015. It is a perfect loom for me. I am enjoying weaving and making small items. I am learning something everyday through weaving.
Once upon a time, I learned English at school. But I have forgotten almost of all. I think I have no sense of English. But I am learning English also slowly slowly…..
Thanks.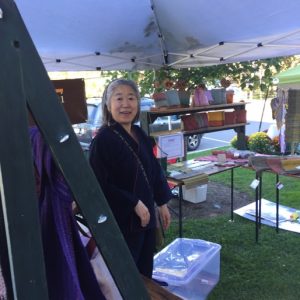 TOMI BENTLEY
518-248-3240
web@holiday.tomi88.com
Online Shop